Welcome to the magic of Golden Records, reimagined for the child in all of us!

Golden Records Presents: A Golden Valentine Sampler Free Download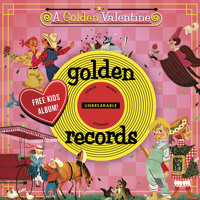 Valentine's Day is just right around the corner! Ever notice how there's not a lot of options for kids music on Valentine's Day? Golden Records offers a free sampler download exclusively for you! I love these classic tunes and it is really cute.
"
A Golden Valentine
" is a collection of 10 handpicked songs for children, including 3 bonus celebrity performances. The Golden Records collection recaptures the nostalgic music of yesteryear, creating a collection of beloved instant classics for families to enjoy together.
Here is also a free coloring page for the little one.
Color Me Mine: A fun coloring activity to do while listening to your free sampler .